Date:
Monday, 26 September, 2011
Q. The 2011 Sutton Trust report "Degrees of Success" highlighted the fact that four independent schools and one sixth form college produce as many successful applicants to Oxford and Cambridge as 2,000 other English schools and colleges. Why are these particular institutions so successful?
A. First, they produce a lot of Oxford and Cambridge applicants! These institutions (highlighted in italics in the table below) all appear among the ten schools and colleges that produced the most Oxford and Cambridge applicants in the period 2008-2010. It is natural that schools and colleges with large numbers of well-qualified applicants will see many of them succeed in winning a place. 
| School/college | School/college type | No. of Oxford & Cambridge applicants 2008-2010 |
| --- | --- | --- |
| Eton College | Independent school | 623 |
| Hills Road Sixth Form College | Sixth form college | 527 |
| Westminster School | Independent school | 520 |
| Peter Symonds College | Sixth form college | 416 |
| St Paul's School | Independent school | 377 |
| Sevenoaks School | Independent school | 363 |
| Winchester College | Independent school | 346 |
| Sixth Form College Farnborough | Sixth form college | 329 |
| The Latymer School | Grammar school | 299 |
| St Paul's Girls' School | Independent school | 280 |
The four independent schools in question are all highly selective academically. In consequence, almost all their intakes might reasonably aspire to apply to Oxford or Cambridge. Hills Road Sixth Form College is not selective but is a very large college, producing nearly 1,000 higher education applicants each year. Such large numbers enable the college to offer a full range of A Level subjects and also necessitate dividing students into groups, creating top sets full of high ability students.
Second, students at all these institutions, both state and private, also enjoy the advantages of an ethos that promotes and celebrates academic excellence and that encourages them to aim high in their university applications and supports them in doing so.
The Sutton Trust report highlights many of the positive steps that all schools and colleges can take to stretch their most able students and support them in making a competitive university application. The University of Cambridge and its Colleges are committed to supporting schools and colleges in this work. We are encouraging consortia of state schools and colleges to work together to provide their most able students with every opportunity to fulfil their potential.
Q. The report suggests that the differences in admissions rates to highly selective universities cannot be attributed solely to differences in attainment. What does account for the differences that the Sutton Trust found?
A. A major difficulty with the analysis in the report is the assumption that schools with equal average A Level scores per student will be producing similar proportions of students with appropriate qualifications for application to Cambridge and other highly selective universities, and in appropriate combinations of subjects.
In reality, the measure of attainment used in the report (the average UCAS tariff points per student) conflates quantity and quality of qualifications, whereas for entry to highly selective universities it is quality rather than quantity which counts: so, for instance, A Level results of A*A*A would be much more impressive to a Cambridge Admissions Tutor than AABB even though the latter attracts more tariff points (440 points versus 400).
The average points score per examination entry is therefore a better indicator of the proportion of a school's students who achieve the top grades necessary to make a competitive application to a highly selective university.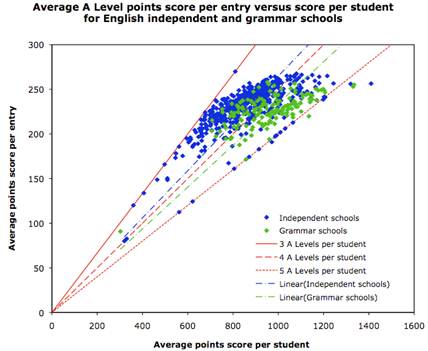 The figure above plots the average points score per entry against the average score per student for English independent and grammar schools (a comparison with which the Sutton Trust is particularly concerned).1 All schools where students take on average at least three A Levels are shown.2 The three red lines show the relationships between the scores per entry and per student if students are on average taking three, four or five A Levels. The blue and green lines show the lines of best fit through the data for independent (blue) and grammar (green) schools. It is clear that on average grammar school students take more A Levels than their privately educated peers. So, if one compares an independent school and a grammar school with the same average A Level points score per student, it is likely that the independent school has a higher proportion of students achieving the top grades in individual subjects needed for entry to universities like Cambridge.
Differences in attainment do therefore explain a lot, but there are undoubtedly other factors at play, including the range of A Level subjects available to students at different schools and colleges, the advice and guidance given to them, and the encouragement and support they receive both at school/college and at home.
1 The data in this chart come from the Department for Education Performance Tables 2010. These use the Qualification and Curriculum Development Agency (QCDA) points scoring system for A Level grades rather than the UCAS tariff, which was the measure used in the Sutton Trust report. For information, the table below compares the two scoring systems. The choice of scoring system makes no difference to the analysis presented here.
| | | | | | | |
| --- | --- | --- | --- | --- | --- | --- |
| A Level grade | A* | A | B | C | D | E |
| QCDA points | 300 | 270 | 240 | 210 | 180 | 150 |
| UCAS tariff points | 140 | 120 | 100 | 80 | 60 | 40 |
2 All English grammar schools are shown but 53 out of 573 independent schools are excluded. Students at these schools take fewer than 3 A Levels each on average because they take alternative qualifications, e.g. Music ones or Pre-U Principal Subjects, instead.
Q. What is Cambridge doing to encourage and support applicants from maintained sector schools and colleges?
A. The University of Cambridge and its Colleges are keen to support schools and colleges in encouraging their best students to apply to the University. To this end we have developed our Area Links Scheme to provide effective, coherent relationships between the Cambridge Colleges and schools and colleges right across the country. Any schools or colleges that would like to find out more about how we can help them should not hesitate to contact their link College.
The Widening Participation and Student Recruitment & Information teams in the Cambridge Admissions Office also organise a large range of activities and events for prospective applicants. These include: a number of summer schools specifically for students from various groups that are currently under-represented at Cambridge; subject masterclasses aimed at academically able Year 12 students from any school/college; and an annual series of joint regional conferences with the University of Oxford for Year 12 students and their teachers/HE advisers to provide up-to-date information on courses available, the application and admissions procedures and student life at both universities.
For more information see: www.undergraduate.study.cam.ac.uk/events